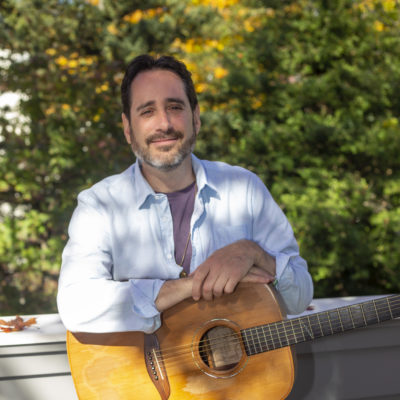 David Newman
Mantra & Kirtan
David began meditating at the age of twelve, when his parents took him to learn transcendental meditation (TM), where he received his very first mantra. Meditation and spirituality remained both an interest and personal sanctuary for David for years to come. Later, while in law school, he became impassioned by the practice of yoga, and eventually left the practice of law to open a yoga school in his hometown of Philadelphia.
As his yoga teaching and practice progressed, David's interests in mantra blossomed again when he came across an ancient Sanskrit chant practice, called kirtan. David had been a musician since childhood, and through kirtan, his love for music was reignited in a way that perfectly aligned with his spiritual path.
Chanting reconnected David to his musical roots and he began composing music again, something he had left behind for years. Though this time, he wrote songs with a spiritual message, and found creative ways to include mantras in his compositions. This led to the recording of his first album, Soul Freedom, released in 2003.
As fate would have it, David's second album, Lotus Feet: A Kirtan Revolution, was reviewed on NPR's All Things Considered in 2006. From there, David's journey in music and mantra accelerated, culminating in the release of twelve albums, including Love is Awake, a collaboration with members of Paul Simon's band, that reached #1 on the iTunes world music charts.
In addition to his recordings, David has traveled the world sharing his music, and has dedicated himself to creating diverse opportunities to educate others in the healing applications of mantra practice and sound therapy.
Simply put, David sees his life work as: Spreading the Love! David lives in the Philadelphia area along with his daughter Tulsi, cat, Mochi, and dog, Uma.
David's music is available on Spotify, Apple Music, and all other digital music outlets. He is also the author of The Timebound Traveler, an Amazon #1 bestseller and autobiography about his spiritual journey on the path of love.