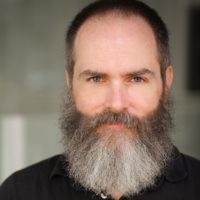 Dan Ward
Hatha
Originally from the Chicago area, I'm a married father of 4 daughters living in Venice, California for the past 20 years.
I stumbled into Bryan Kest's yoga class 20 years ago. Power Yoga hit me at just the right time. Like many people in their early 20's, I was struggling with charting a course towards "growing up". Bryan's plainspoken wisdom cut through the noise in my head and gave me a way to develop a balanced relationship in both mind and body. Over the years, I've gone on to study with some of the leading teachers in yoga: Jerome Mercier, Maty Ezraty, Leslie Kazadi, Annie Carpenter, Jo Tastula, Tamal Dodge and Ashley Albrand. They all have contributed profoundly to my personal style of yoga.
My hobbies include hiking, writing, riding my bike to the yoga studio, watching shows with my wife and kids and having fun living it up by the beach.